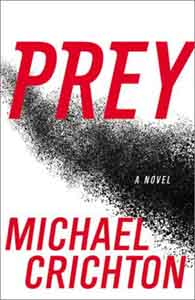 As the novel explores the Evolution of nanotechnology and distributed intelligence, the book opens with a harbinger of the DEvolution of the hero, Jack Forman's marriage, and the trials in life that experiences working as a househusband. Or a stay at home dad. There's no good term for it, states Crichton vis a vis Jack (the novel is 1st person).
The main event unfolds as Jack is brought back in, and things take a turn for the worse as he discovers a close friend's true motives, the extent of the damage created of his company. But along the way, he develops a friendship with a woman employee whom he has always admired ever since his recruitment of her, and simultaneously, the object of his antagonistic spouse's jealousy.
Crichton competently explores and questions the issues surrounding the use and abuse of modern technolgy, and scientific knowledge, the repercussions and lenghts people go at the service of corporate greed, and our vulnerability even to those of our own creation. He does this the same finesse Dickens had used to tackle social issues. As most of the time, PREY ends with a note of caution. And the desire to hear good news.